C/AC Applications for CYC 2022 are

now closed

! If you are still interested in attending camp, please take a look at our Registration Page for more info!
**Please note: as this is a leadership position, applicants should complete their own application.
Counselors and Assistant Counselors lead the campers throughout the week of camp. From ensuring basic safety to getting campers to class on time, Counselors and ACs bond with each other and their campers to create priceless memories!
Our Counselors and ACs are taught leadership, communication, collaboration, and conflict resolution skills that we believe build confidence and are invaluable in school and in life. Besides being an essential part of helping CYC run smoothly and safely, CYC Counselors and ACs form a bond unlike any other and, more importantly, have tons of fun!
To be eligible to be Counselor / AC, you must:
Be at least 16 years of age or an incoming high school junior. This year, we are opening up counselor and assistant counselor positions to anyone up to age 20 or incoming college junior.
Complete the Counselor / AC application by June 3rd.
Complete registration, Waiver Forms, AND PAY for CYC

(Camper + Bus fee) between

June 4th – June 8th

. ALL APPLICANTS will need to register (including college applicants).

**NOTE**

: It is crucial that you complete your registration prior to the opening of general registration.

Applying as C/AC does not guarantee you a spot at CYC

.

As such, you must complete registration by June 8th.
Attend an interview on June 11th or June 12th

. Interview slots will be assigned on a first come, first served basis, so don't wait to apply!
What is CYC looking for?
CYC is looking for enthusiastic individuals who are not afraid to step out of their comfort zone! Counselors and ACs are taught and evaluated against four main categories: Leadership, Behavior Management, Teamwork & Communication, and putting Campers 1st. See the C/AC Evaluation Form for details regarding each category.
PLEASE NOTE:  During the C/AC application process, we are often asked the question – "What if I can't make the date for workshops, interviews, training, this one day at camp?  Can you make an exception?" Unfortunately, the answer is no, we cannot make an exception. Doing so would:
Put a strain on the C/AC team during the week of camp as the applicant is less prepared
Be unfair to the other applicants who prioritize their time to attend mandatory events
Create a burden on the volunteer staff who give up weekends to run the curriculum.
CYC understands that high school students have many competing opportunities during the summer such as band/dance camp, SAT classes, summer internships, travel abroad. We encourage them to explore all the options and do what it is best for them! To try to accommodate this, we begin planning for next year's camp as soon as possible so that camp dates as well as application dates of workshops, interviews, and training are known well in advance. Our volunteer team dedicate themselves to the leadership pillar of CYC by putting in time and effort into making these free workshops and interviews available. It requires a commitment in expenses by CYC to rent space and pay for printing of materials. It is our investment in the future generation of leaders at no cost to the applicants, and in return we ask for their commitment to this application process.
If you are selected, you must:
Help move inventory the weekend before camp and the weekend after camp.

Call campers and families to go over camp rules two weeks before camp.
Attend the entire one-day training on July 9th. Due to the importance of training to prepare for camp duties, set expectations, and bond with your fellow group C/ACs, attendance is mandatory for everyone. **If an applicant cannot make training but has been a C/AC before, they are able to get the position that they have had previous experience in (i.e. a previous counselor can make counselor and previous AC can make AC) or have had more than one year of experience (i.e. an applicant who has served as AC two years is able to make counselor).

Ride the bus to and from camp.

Attend camp a day early.

Be present the entire week of camp.

Potentially attend a retreat at a date TBD.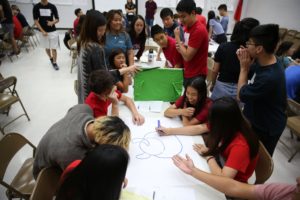 Counselors and ACs will pay camp fees upfront, and a portion will be awarded back as a scholarship at the end of camp pending a performance evaluation.  They are also eligible to receive 80 hours of volunteer service hours towards college applications for those who request it. Don't forget, CYC camp leaders can be tapped for referrals and references as you apply for college!
If you have any questions, please contact us at [email protected].
Please see important dates below:
May 27th:

Counselor/Assistant Counselor Application open

May 28th:

Financial Aid Application open

June 4th:

Camper Registration open (Open until capacity is reached).

June 11th & June 12th:

Counselor/AC Interviews

June 31st: C/AC Results will be posted as soon as possible but no later than the end of June.
July 9th:

Counselor/Assistant Counselor Training

July 22nd – July 24th:

CYC 2020

August 6th: CYC Reunion